About Dental Implants in White Lake, MI
A dental implant is a post much like a tooth root that is surgically positioned and placed directly into the jawbone beneath the gum line. This allows your dentist to mount replacement teeth or a bridge in that particular area. Dental implant crowns cannot come loose like dentures can, making them a viable treatment option for a variety of oral health situations. Dental implants also benefit oral health the most because they don't have to be anchored to other teeth like a bridge.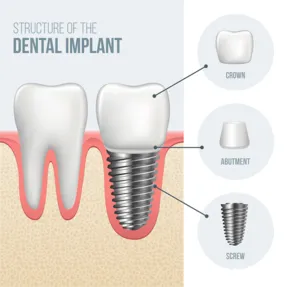 How does the dental implant process work?
For individuals considering dental implants, you must have healthy gums and enough bone structure to support the implant itself. If the bone is too soft or too thin, a bone graft may be needed. Single-tooth implants are used on those who are missing one or more teeth. At LeVasseur Dental Care we will provide you with a referral for the placement of the implant, as an implant is surgically placed in an opening that is made into the jaw bone. After the surgery the implant is given time to bond to the jawbone, and once the implant attaches to the bone, it acts as a new root for the crown that will replace the missing tooth. You will then come back to our office, where a crown or cap is attached to the implant, filling the space left in the mouth. Dr. LeVasseur expertly finishes the crown to look like a natural tooth.
Implants are so well designed that they mimic the look and feel of natural teeth. Implants are usually made of a synthetic yet biocompatible material like metal or ceramic. With diligent oral care and proper hygiene, your implants will beautifully last you a lifetime!
Missing a tooth and interested in dental implants?
Call LeVasseur Dental Care in White Lake, MI at (248) 698-2220 today!
---